I, I, The Neighbour Is Building A Twelve-Storey House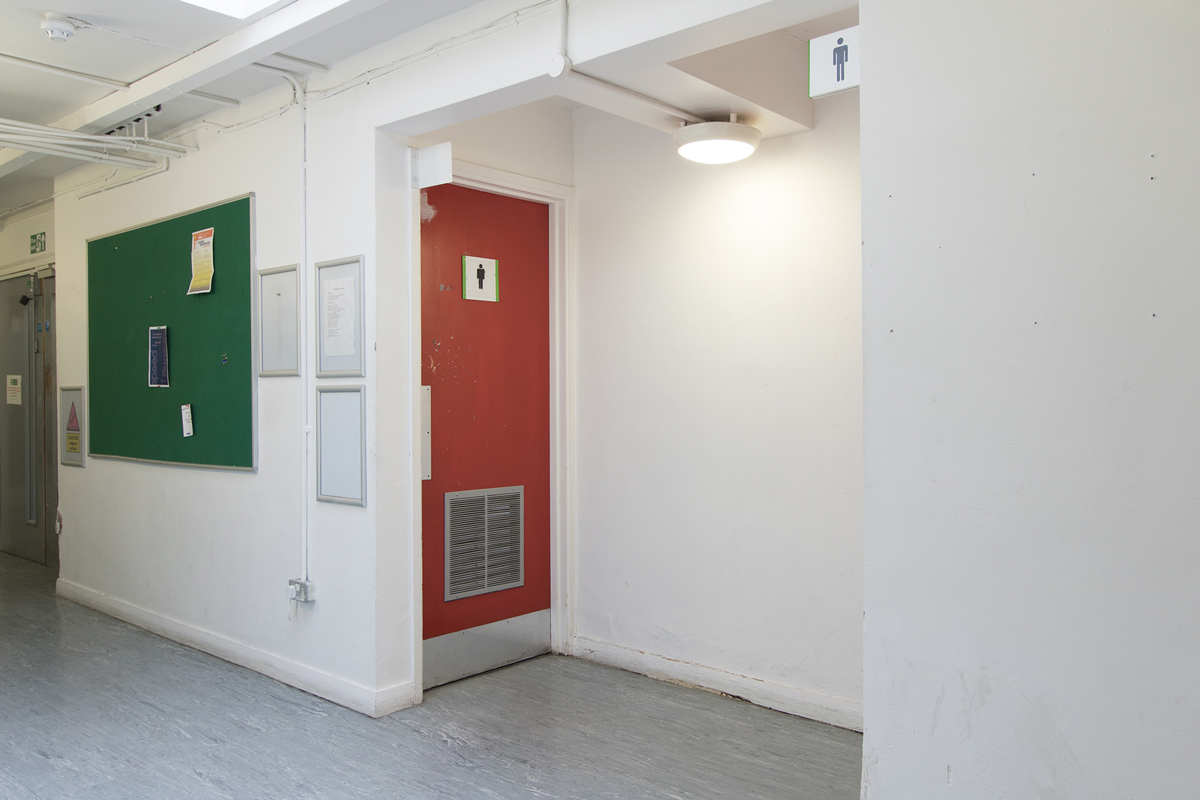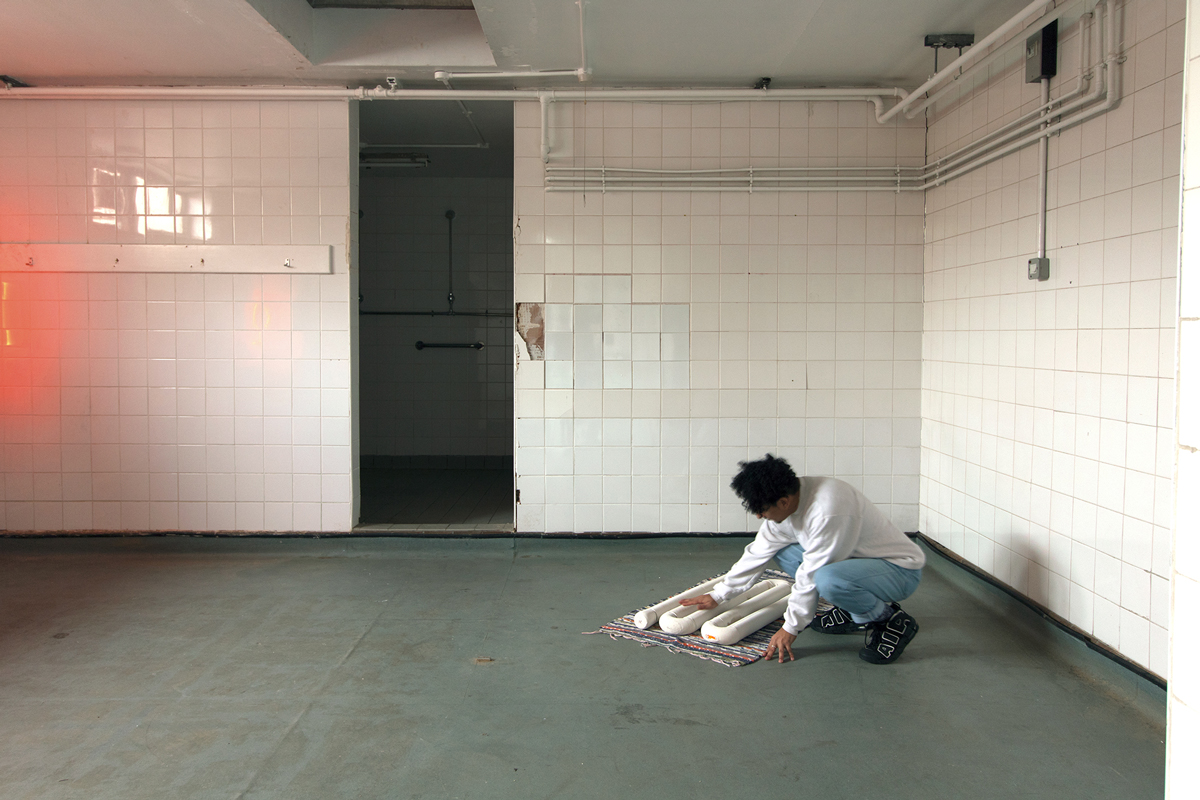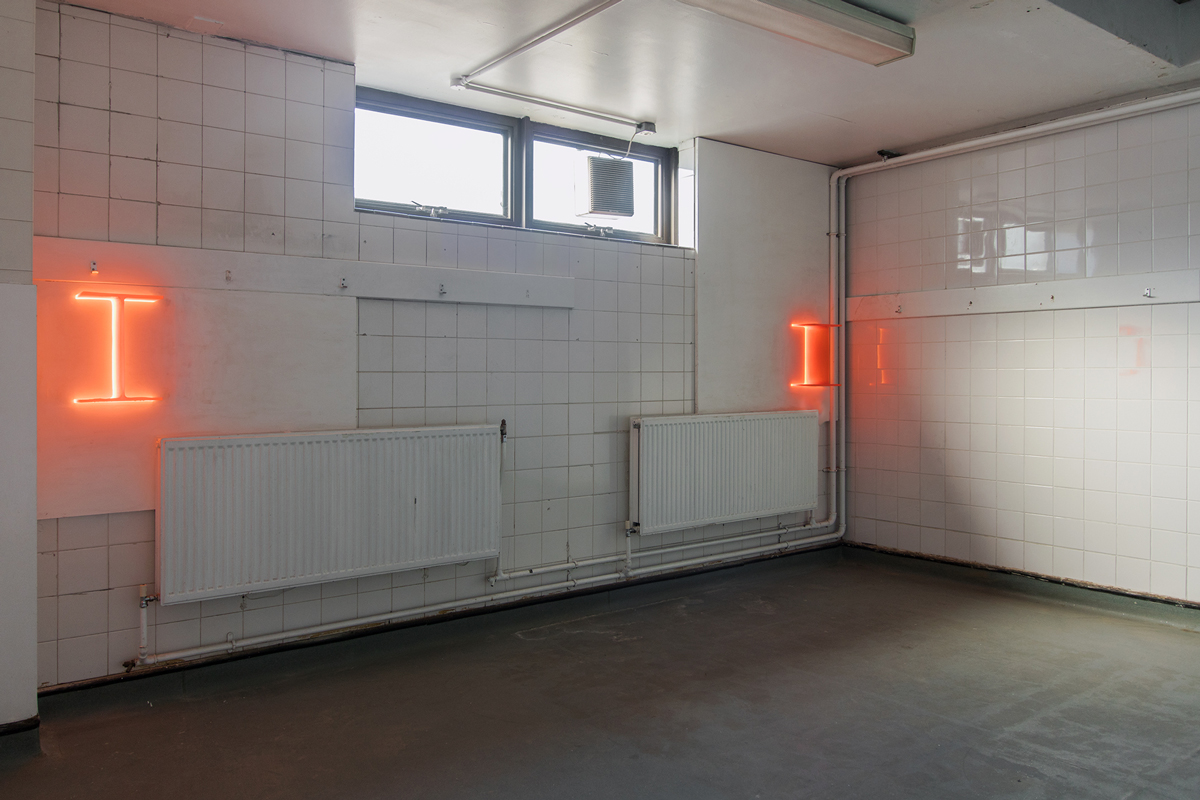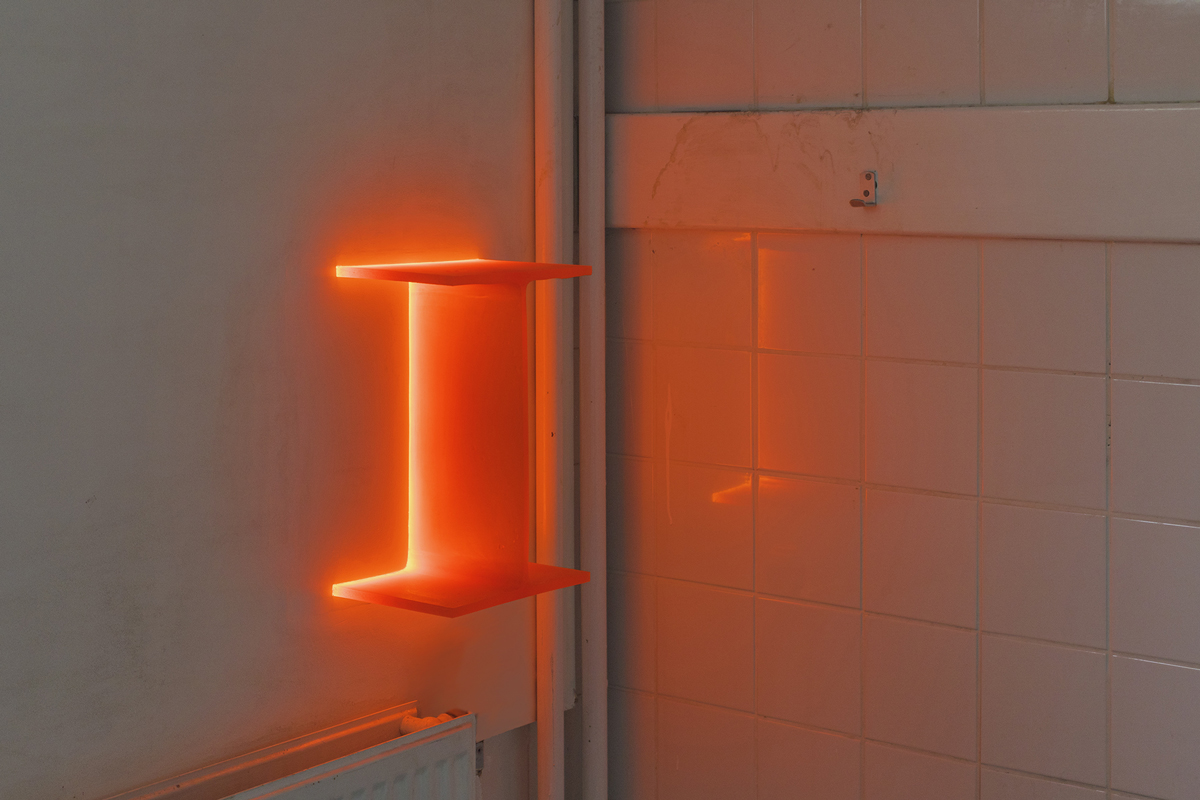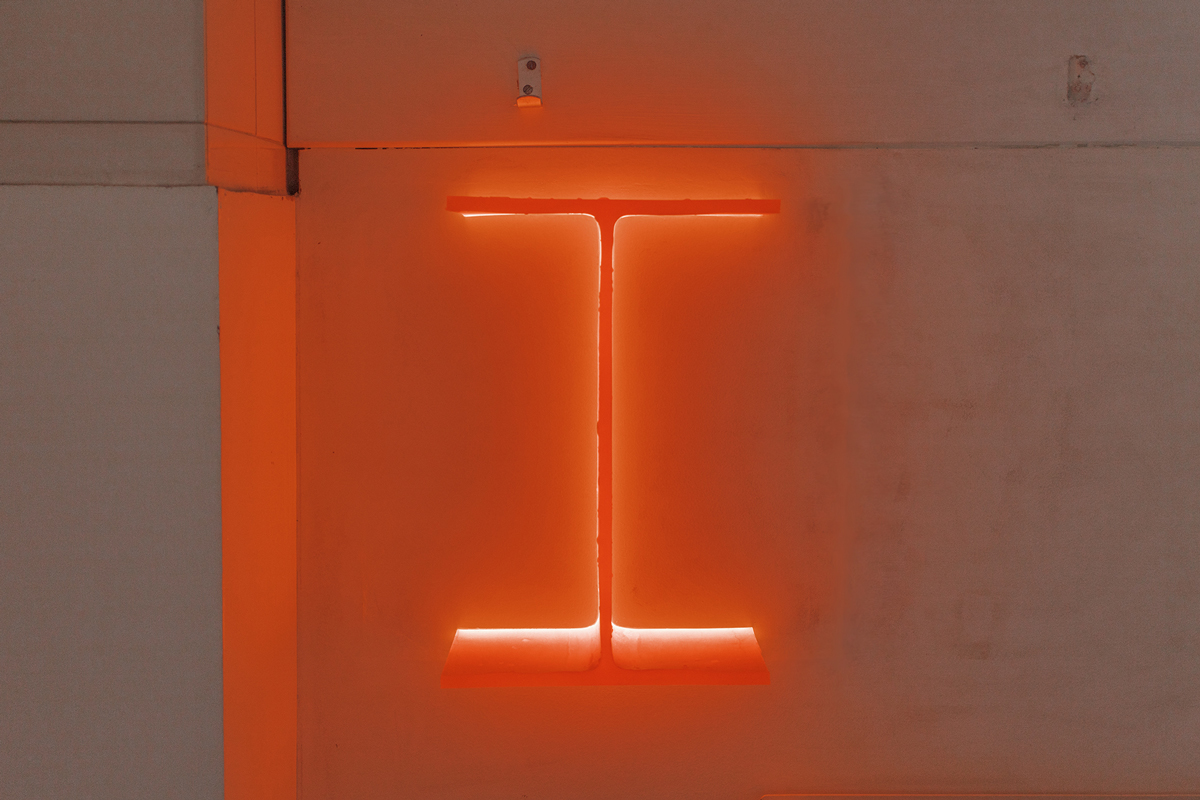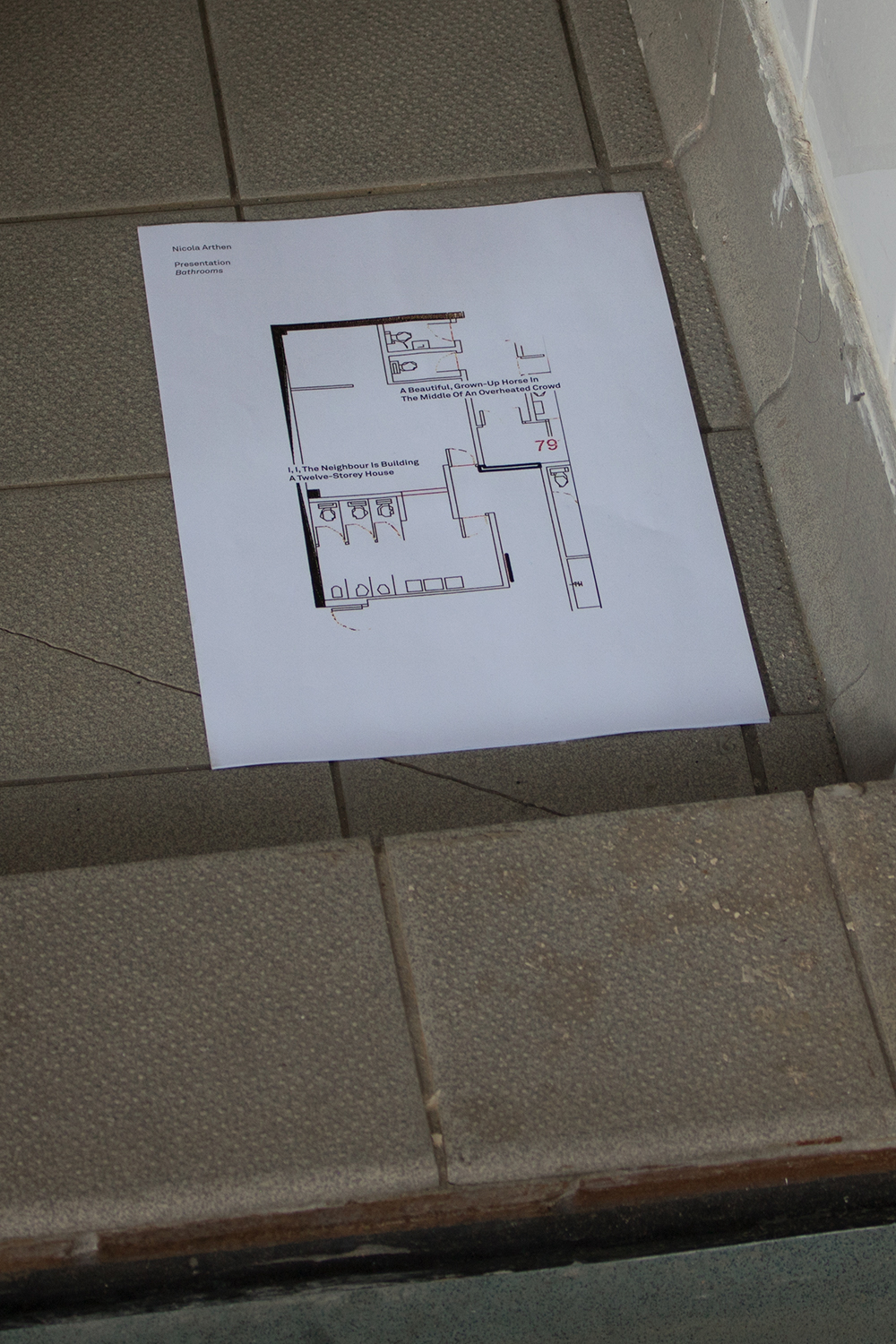 Presentation in the former changing rooms at Goldsmiths University's Deptford studios, London
A Beautiful, Grown-Up Horse In The Middle Of An Overheated Crowd
Modular system of 3D-printed ceramics, copper wire, concealed heating mechanism, found woven rug
I, I, The Neighbour Is Building A Twelve-Storey House
Casted epoxy resin, pigment, LED, transformer, wall panel
Digital work within the online game Minecraft Realms
Made from borosilicate glass and fastened with a wood collar and tie, the Chemex Coffeemaker brews without imparting any flavors of its own. Coffee beans are directly supplied from an artisanal coffee plantation that pierces the heavens. Surrounded by whimsical backdrops of late-capitalist brickwall aesthetics you may have a cup of freshly brewed coffee up in the clouds or you may stay on the ground and dowse your mortal, earthbound body in a fresh stream of boiling water.
Text: Jan Berger
Part of Landesgartenschau 2020 at the Mythical Institution with: Fattini Brambel, Johannes Büttner, dieinternet.org, Nina Kettiger, Jeffrey Alan Scudder, Nicholas Warburg
Video of the opening ceremony and guided tour by curator Jan Berger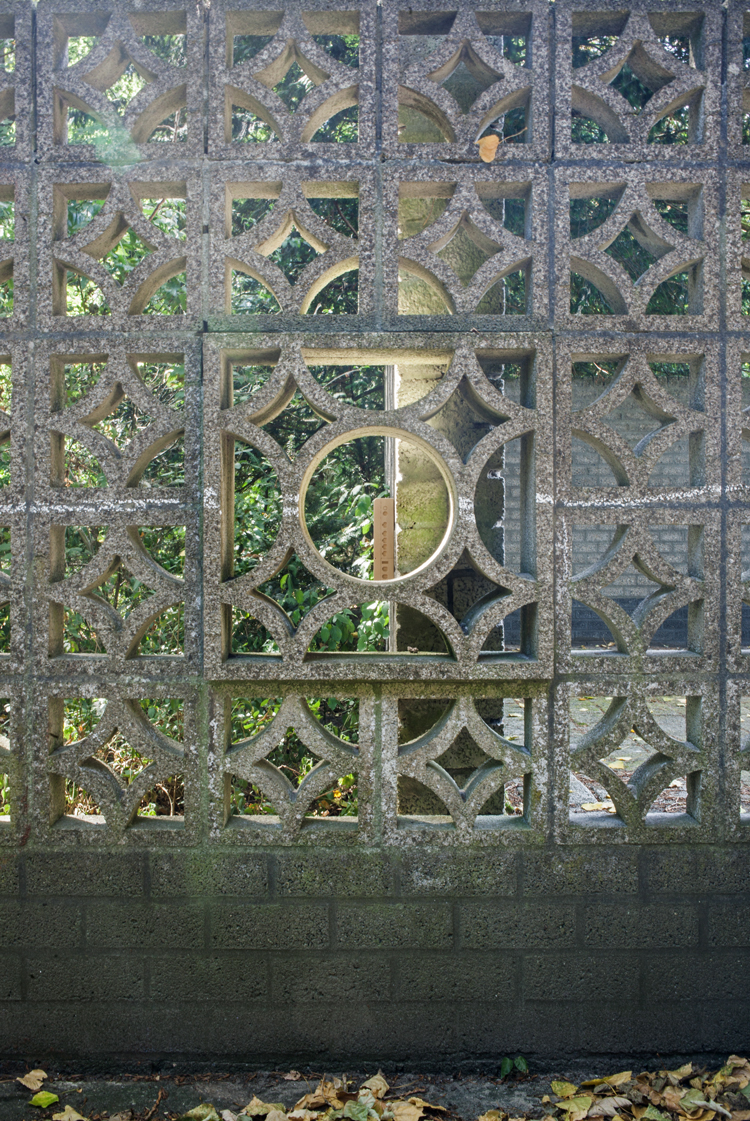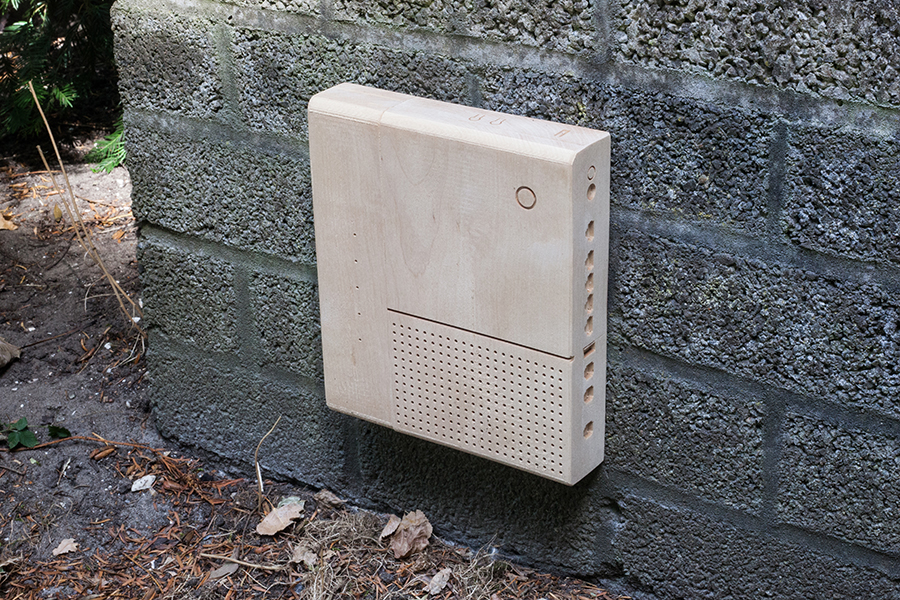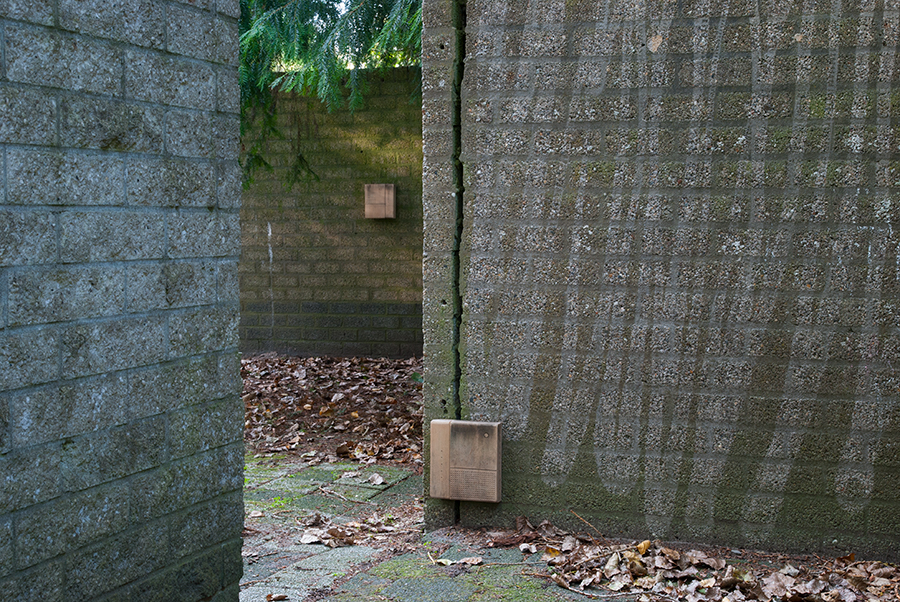 Five wooden replicas of Wi-Fi-routers are installed at a low height on the walls of a public location to suggest a potential broadband network – the minimum conditions for modern office work – rendering a specific place into a productive backdrop by minimum means. The work was conceived for a set of walls in Amstelpark – a physical remainder of the soft-ware company IBM's pavilion at set place during the 1972 garden show in Amsterdam.
CNC-milled birchwood, weathered over three months, high-pressure cleaned stone walls;
Temporary and site-specific installation in Amstelpark Amsterdam during group exhibition Going Nomad
(Photos 1 + 2 in July: Coco Duivenvoorde, Photos 3 + 4 in September: Lukas Messner)
The Weathers They Live In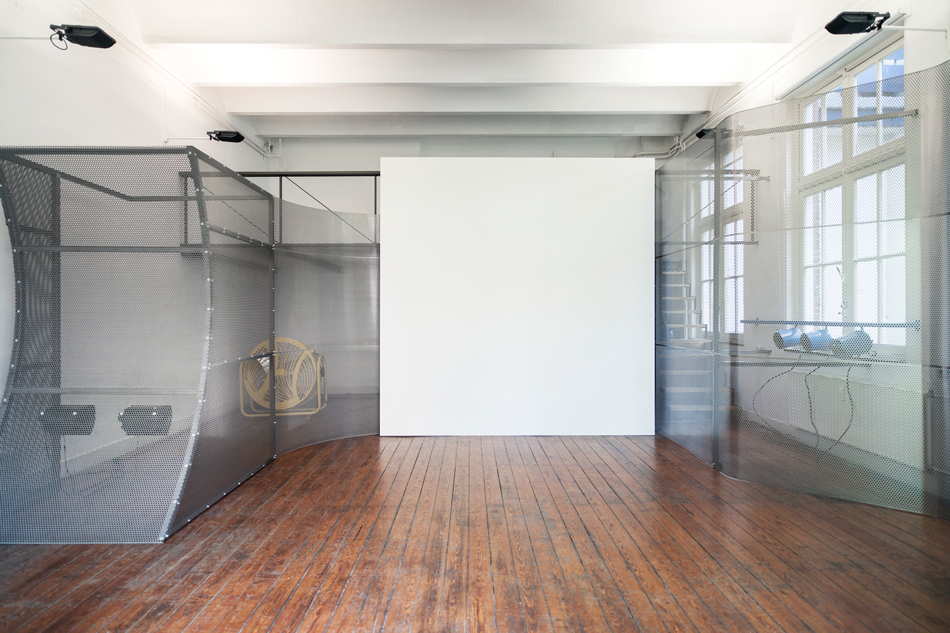 Group exhibition at puntWG initiated by Nicola Arthen with Alondra Castellanos Arreola, Paul Bernhard, Dan Walwin, Baha Görkem Yalim, Isabel Mager and François Girard-Meunier. See full documentation.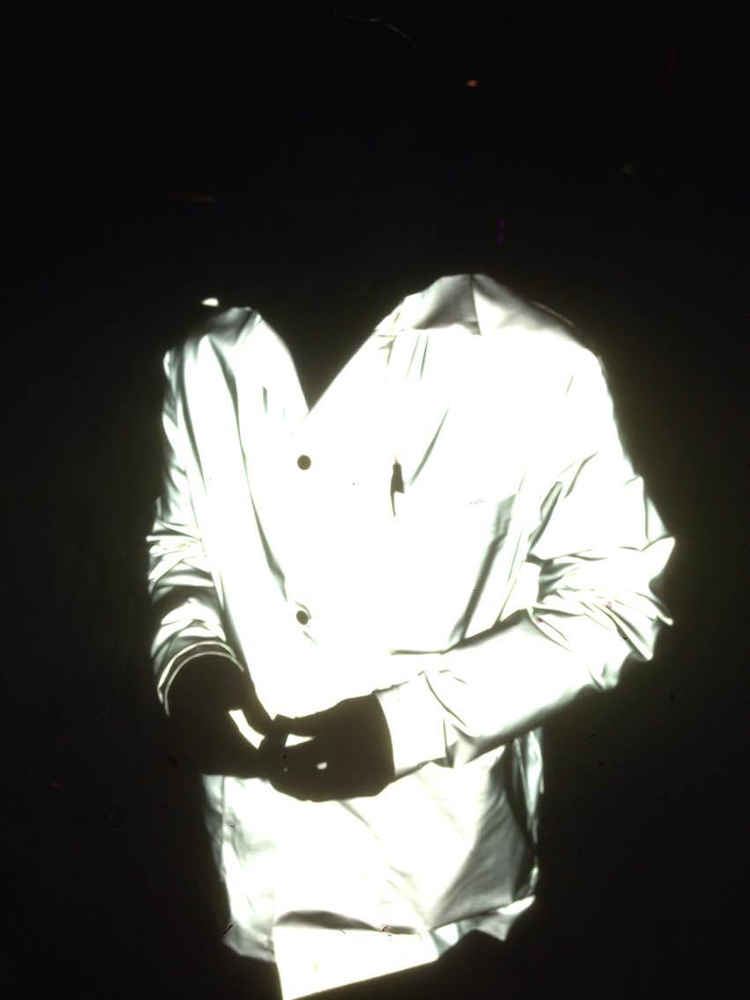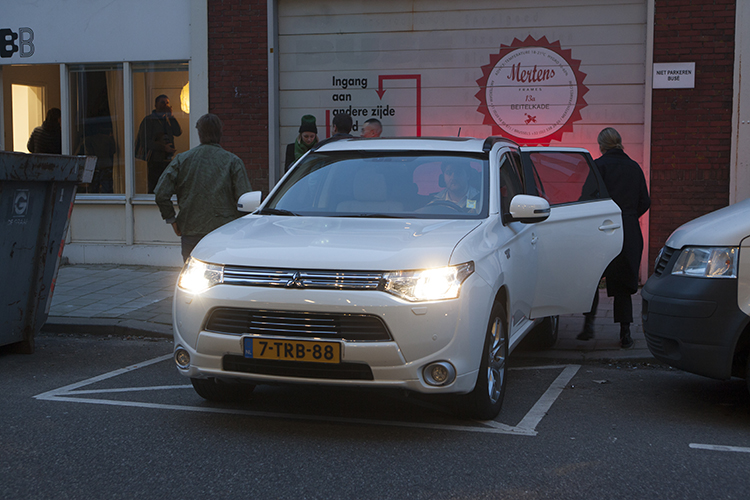 Audio piece (19' 38'') played in a hybrid car;
Working jacket from reflective fabric made by Alondra Castellanos Arreola
Photo documentation from solo exhibition Avenida Progreso at Plan B, Amsterdam in 2017.
Video documentation produced by PAOS, Guadalajara, Mexico in February 2018.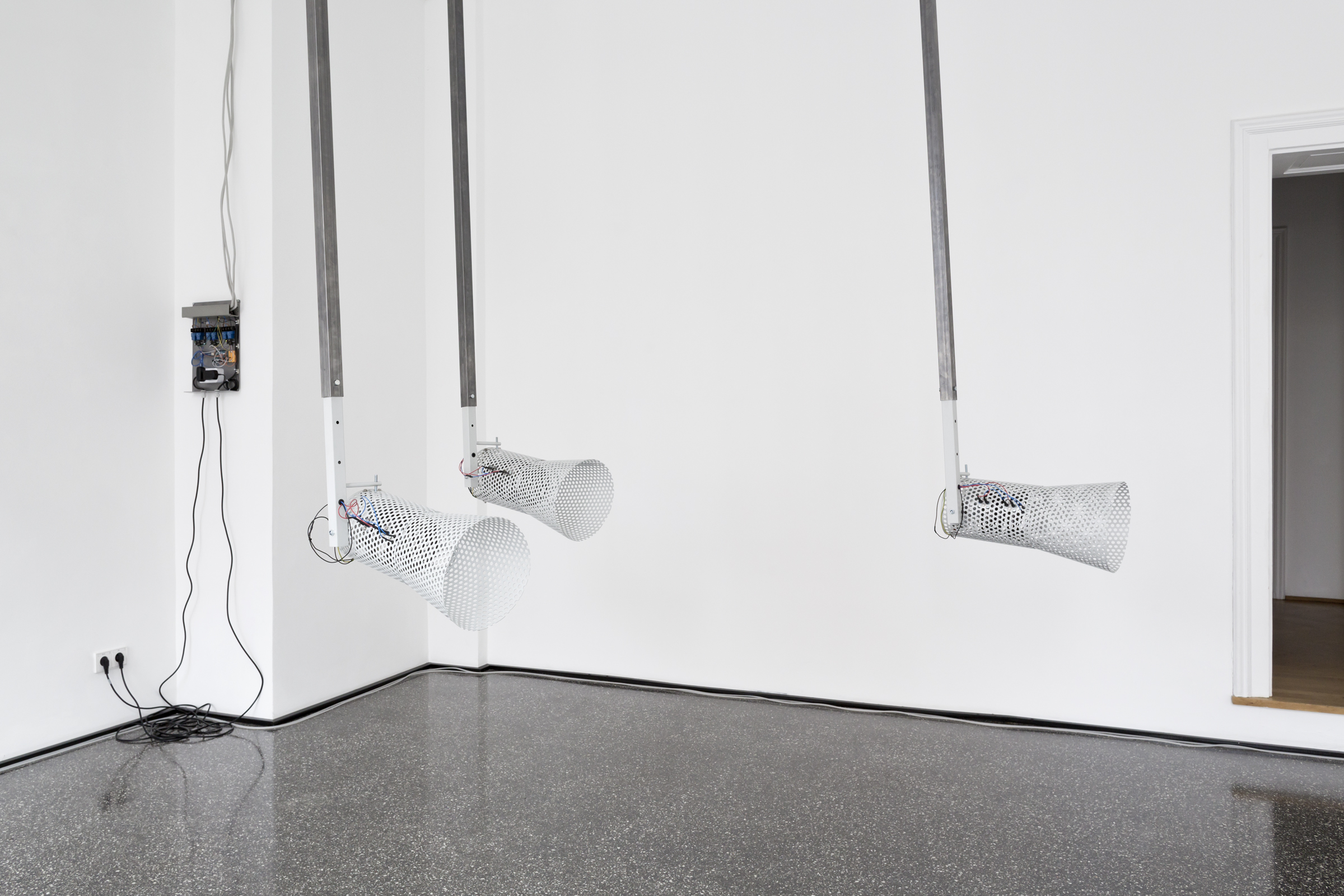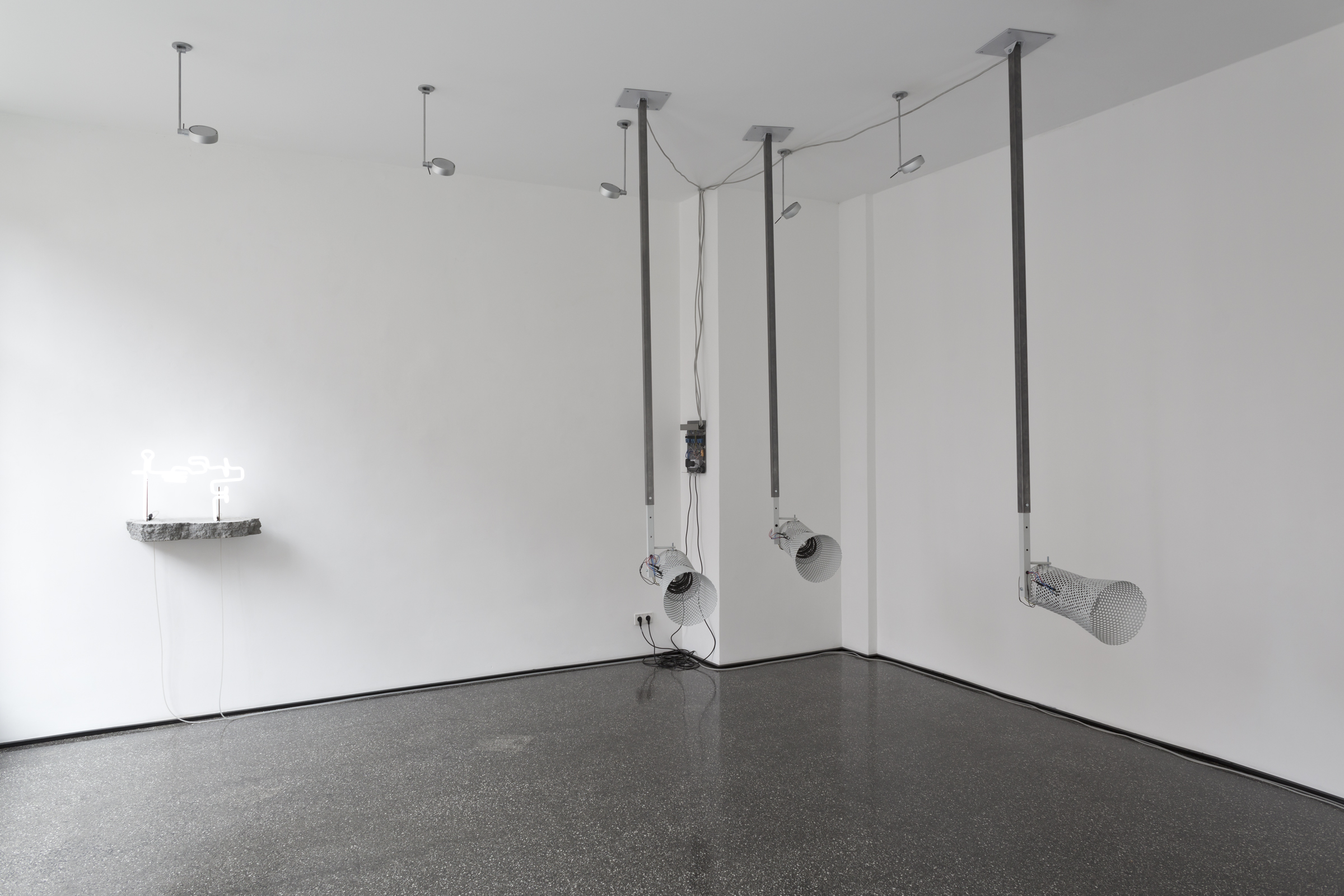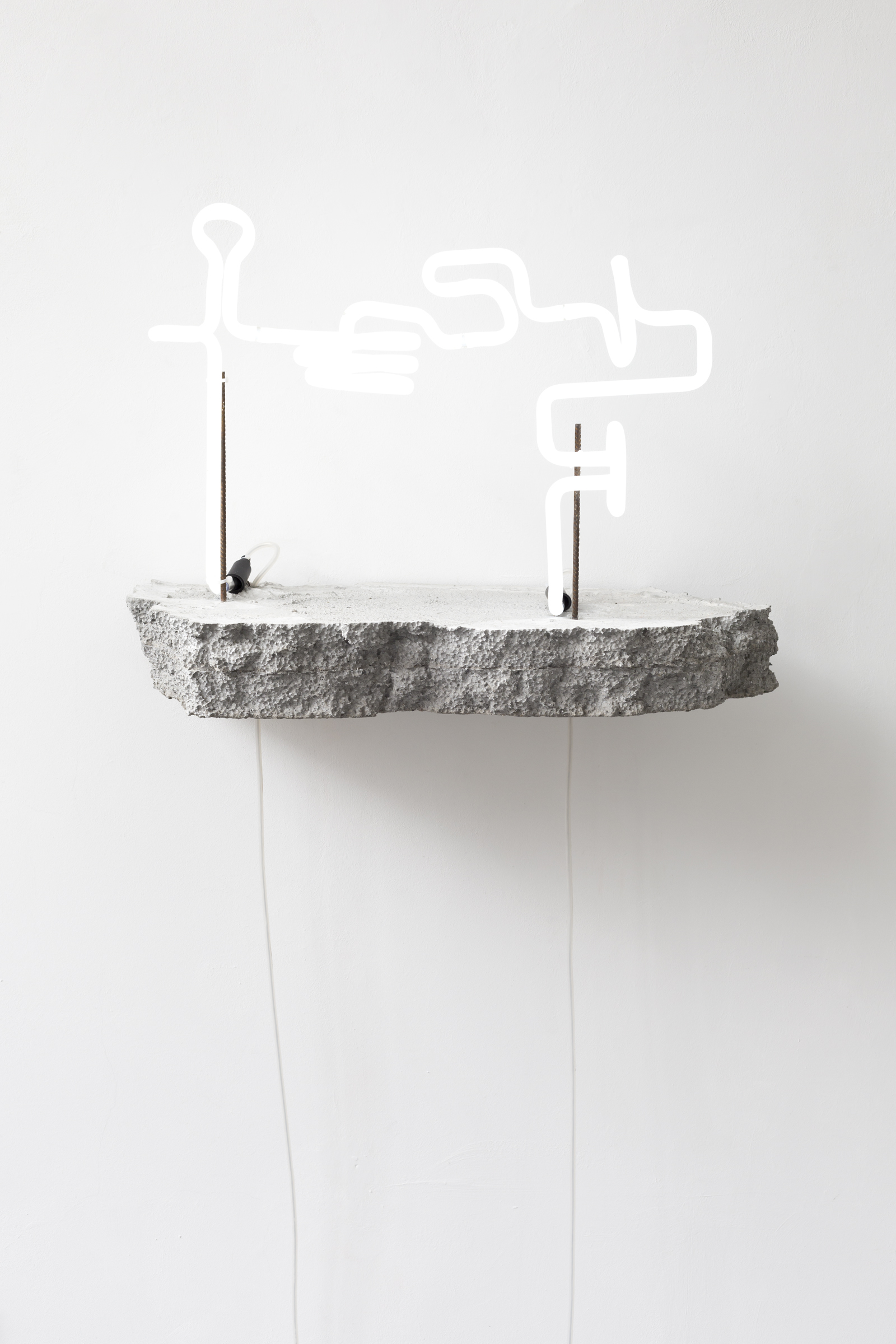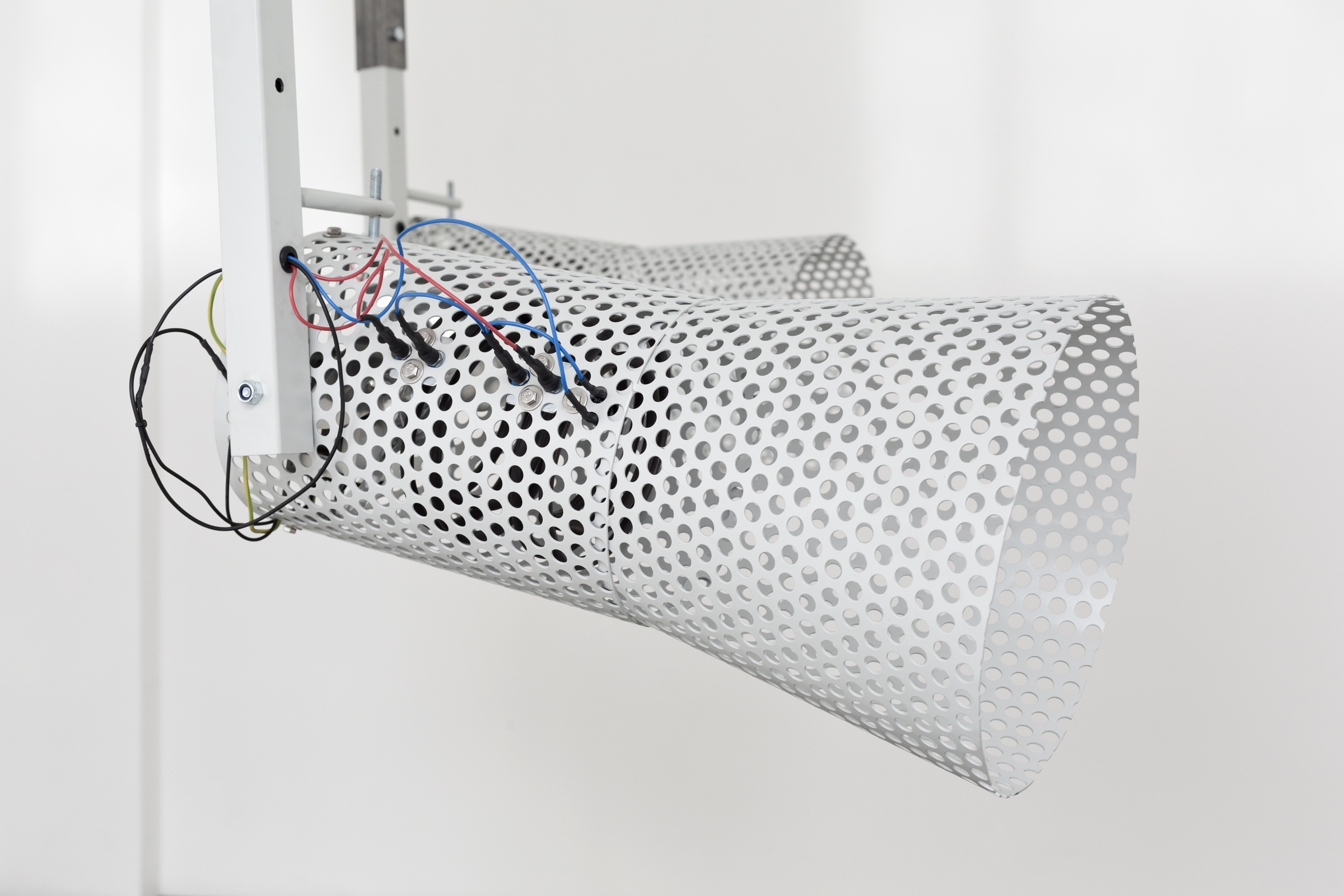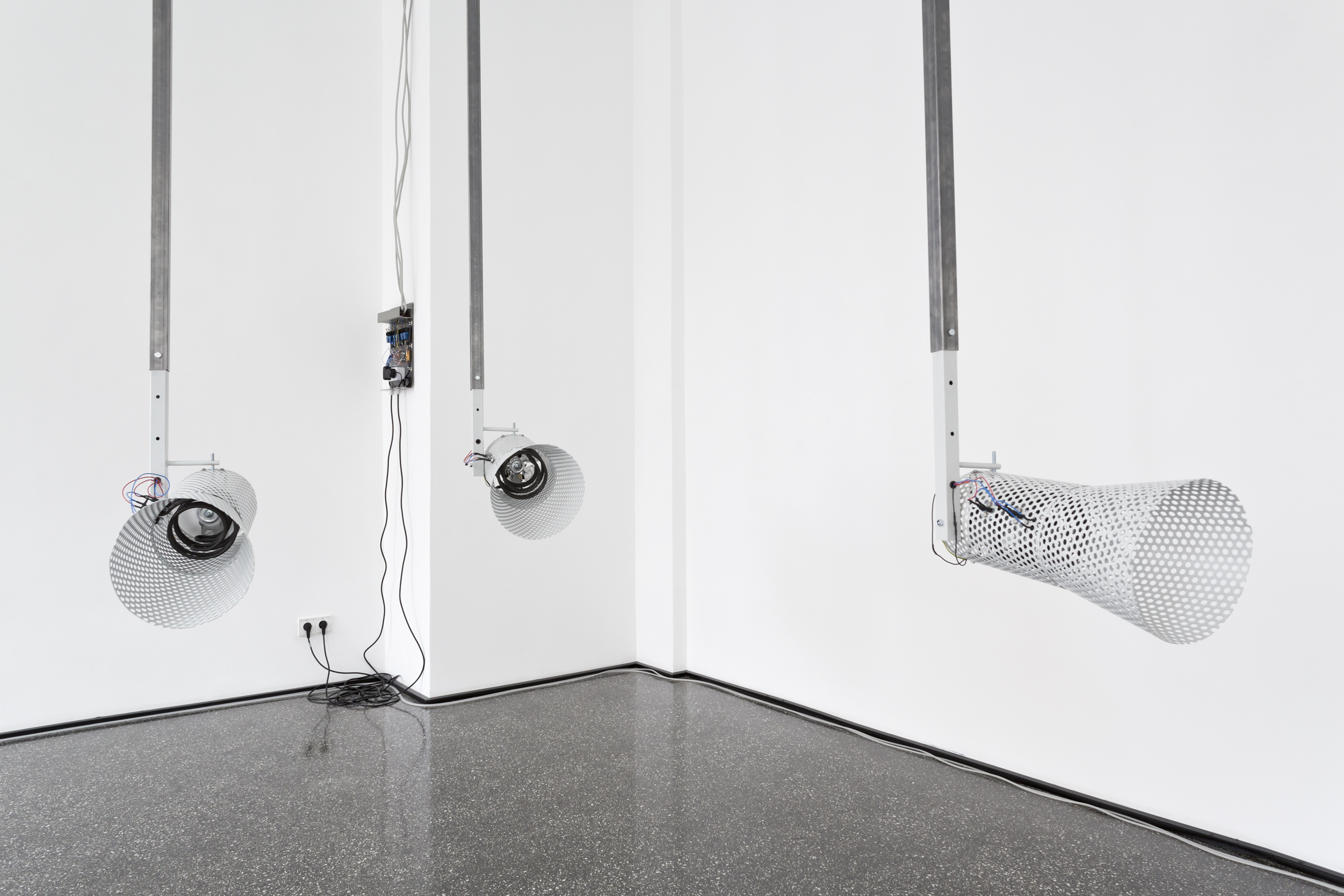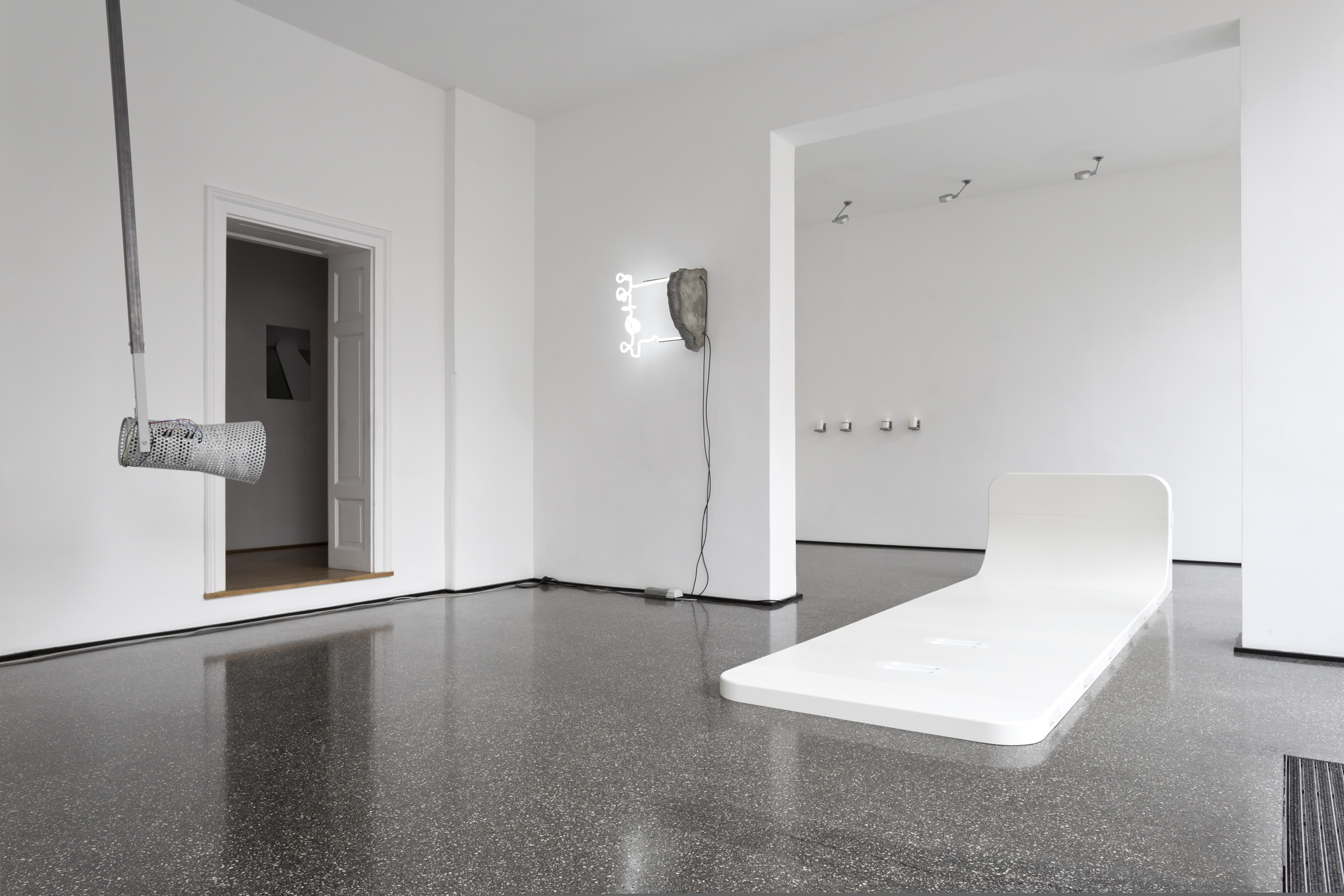 Duo exhibition with Ivo Rick at Artoxin, Munich
Documentation shows:
Avenida Progreso (y Union) - Neon tubes on styrofoam-casted concrete, transformer
Avenida Progreso (y Sindicalismo) - Neon tubes on styrofoam-casted concrete, transformer
DYN - Re-programmed electric blow heaters with each 3000 W from perforated and powder coated steel, control box
Cups - 3D-printed bioFila silk, cup holders from ABS plastic
born 1990 in Germany
lives and works in Amsterdam and London
Education
MFA Fine Art, Goldsmiths University, London
Fine Arts Department, Gerrit Rietveld Academie, Amsterdam
Class of Prof. Martin Gostner, Kunstakademie Düsseldorf
Awards / Grants / Residencies
Online residency at the Mythical Institution
Stipend, DAAD, Germany
Stipend, Prins Bernhard Cultuurfonds, The Netherlands
Subsidy, Stichting Niemeijer Fonds, The Netherlands
Residency at Taller Los Guayabos, Guadalajara, Mexico
Started, Residency, Prague, CZ
Prix De Rome, longlist, Mondriaan Fonds, The Netherlands (nominated by Clare Butcher)
Projectsubsidy, Amsterdams Fonds voor de Kunst (AFK), Amsterdam
Werkbijdrage Jong Talent, Mondriaan Fonds, The Netherlands
Autocenter Summer Academy w/ DIS collective, HMKV Dortmund
StartPoint Prize, honorary mention of the jury, Prague
Fine Arts Prize (w/ Lieven Lahaye & Bastien Gachet), Gerrit Rietveld Academie, Amsterdam
AABER Award, 1st prize (w/ Adrian Sölch), Munich
Solo exhibitions
La Etica de los Algoritmos (artist talk & performance), PAOS, Guadalajara, Mexico *
Avenida Progreso, Plan B, Amsterdam
Brought Up To Code, Galerija Simulaker, Novo Mesto, Slovenia
Selected group exhibitions
De la Mano a la Boca, Taller Los Guayabos, Guadalajara, MX
Prospects & Concepts, Art Rotterdam, NL *
Salon ACME No. 7, Mexico City, MX
Even if it's Jazz or the Quiet Storm, NEST, The Hague
Going Nomad, Zone2source, Amstelpark, Amsterdam, NL *
Moton Actuator Tour at LOVAAS, Munich
I Book You, The Ballery, Berlin
Klaus von Gaffron gegen den Rest der Welt, Kunstblock Balve, Munich (w/ Ivo Rick)
Salon ACME No. 6

, Mexico City
Jahresausstellung, Galerie Artoxin, Munich
PIN. Benefit Auction, Pinakothek der Moderne, Munich (w/ Ivo Rick) *
Bad Flash, Berlinskej model, Prague (w/ Alondra Castellanos Arreola)
modul aero, Galerie Artoxin, Munich (Duo-exhibition w/ Ivo Rick)
In Support: Support Structures, De Kijkdoos, Amsterdam
The Weathers They Live In, puntWG, Amsterdam (incl. organisation and curation)
GELD, Semperdepot, Wien (w/ Ivo Rick)
Project.Labour, GT22, Maribor, Slovenia
Exhausted lines and dead pipes, V240, Amsterdam
Do It Yourself Design, Bröhan Museum, Berlin (w/ Ivo Rick)
Machinery, easy!upstream, Munich (w/ Ivo Rick)
StartPoint - Prize for European Art Graduates, Arti et Amicitiae, Amsterdam
La Vie En Rose, Lockwood Project, Amsterdam
Chambre de Schie, Fotofestival Schiedam, Schiedam
StartPoint, National Gallery, Prague
Best of Graduates, Ron Mandos, Amsterdam
Hesitant Autonomy, Graduation Show, Gerrit Rietveld Academie, Amsterdam *
Nothing works but that works just fine, Labor, Köln
Moments in a Think Tank, puntWG, Amsterdam
low |lō|, lower white space, Amsterdam
Constant Companion, Oude Kerk, Amsterdam
Annual exhibition of Kunstakademie Düsseldorf
AABER Award, Leonrodplatz, Munich (w/ Adrian Sölch)
FLAM Performance Festival, Arti et Amicitiae, Amsterdam
Beyond Babylon, Oude Kerk, Amsterdam
Rietveld UnCut: The Making Of, Brakke Grond, Amsterdam
Demokratie, Das kleine Schwarze, Hamburg
Selected performances
Becoming Wall, Gerrit Rietveld Academie, Amsterdam
Wood Chuck, Leonrodplatz, Munich (w/ Adrian Sölch)
walk with me, Arti et Amicitiae, Amsterdam (w/ Pedro Matias, Angelo Custudio, Ivana Filip)
Spray Paint Art, Brakke Grond, Amsterdam